Southampton Rumours Member Posts
ArmySaint's Profile
Current Avatar:
No Avatar image uploaded
ArmySaint's Posts and Other Poster's Replies To ArmySaint's Posts
To ArmySaint's last 5 banter posts
To ArmySaint's last 5 rumour replies
To ArmySaint's last 5 banter replies
ArmySaint has no Rumours Posts
ArmySaint's banter posts with other poster's replies to ArmySaint's banter posts
18 Jan 2017 22:09:28
63% 19 Shots.10 on Target.1 Goal in 92nd min. Just saying!

Can you imagine if these were converted? Wouldn't be classed as boring then!
---
1.) 18 Jan 2017 23:05:56
I have been reading this site for some time I here about how we nearly went bust and we are lucky.
I agree but I have had a season ticket for 15 years this is the most negative football I have seen our manager has got to go our high pressing that we scare teams with have gone the players don't look like there enjoying it and from the stands in not it's the first season were
I have thought do I want to go on a cold wednesday night the answer is sadly no
---
2.) 19 Jan 2017 09:47:22
So in short we dominated the match and won.

Yea - let's sack the manager.

FU2
---
3.) 19 Jan 2017 13:25:03
I don't think its surprising that we dominated possession against an injury hit championship side. It was one of the worst performances I have ever seen from a Saints side, especially the first half.
Our squad is just not as strong as in previous seasons, especially in the attacking department. And this is made worse by using tactics which don't play to the strengths of the players that we have.
---
4.) 19 Jan 2017 13:45:49
This is the thing, we're not actually playing badly, we're still a very good team and playing some very good football. We're solid defensively, only 6 teams have conceded less than us and we've averaged about 15 shots per match, again, only 6 teams create more chances on average.

The problem is we only score every 17 shots or so, if we had someone who could finish, we'd be top of the league (probably not though) .

Linked to larger image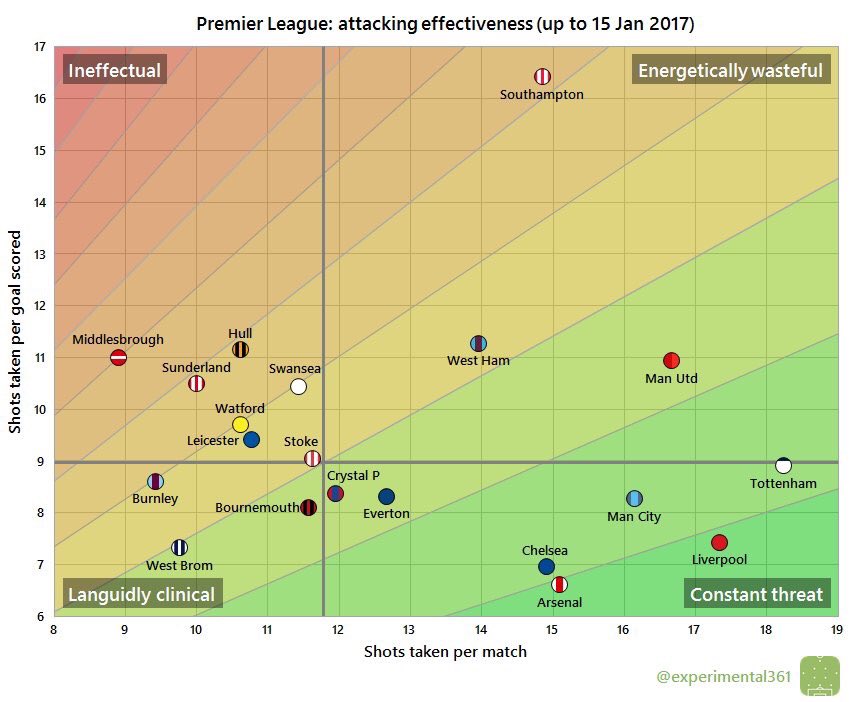 ---
5.) 19 Jan 2017 18:58:32
Steady on sainty that's almost a compliment to our "boring " manager that everyone keeps shouting for his head .
Good stats 👍🏼
---
6.) 19 Jan 2017 22:37:07
I think the conversion ratio is a poor way to judge it. We're currently on 19 scored in 21 games but without Wet Spam and Burnley it's 13 scored in 19 which is blooming dreadful!
---
02 Sep 2014 15:13:39
To anyone who knows Jos, please pass on my thanks for his services. I will admit, I was worried at times last season, but honestly, I never forgot his humor to the camera and how good he was in the Championship (especially scoring from Fontes cross!). It's a shame really as I believe he was a real character in the dressing room and a major personality at the club! We as fans are very quick to forget the hard work of old when current times are good! I wish him all the best at Norwich and hope this season he deservedly becomes one of the best defenders at the club and in the Championship. Cheers Jos. there aren't many palm trees in Noorfulk. Let's be Avenue :) :) :) Good luck.
---
1.) Couldn't agree more, good luck Jos.
---
2.) 03 Sep 2014 20:40:25
Amen to that. Good luck Jos
---
13 Mar 2019 23:19:43
I think we'll cock up against Brighton; they always see us as the "South Coast Derby" and in comparison, we like to hug them as they are miles away and really don't know what a derby is! 0 points in my opinion.
---
01 Feb 2017 00:57:06
At least we have some interesting possibilities now! We'll be fine. just a little bit to used to success and finally we need to reconcile :) let the opportunities happen. you never know. Smile and wave. it will happen.
---
24 Jan 2017 23:25:34
After watching. well prefer Mariano and don't think there is much threat of a trade off - two totally different styles of which I think Mariano would better suit (a lot more in locker) .
---
27 Dec 2016 23:20:59
Ed002 Cheers for the update. get the need for a RB. Just don't understand looking at D/ A/ CM? Not quite the positions that are needed as opposed to others? . strange one. CP knows what he is is doing: Confidence must be high :) On wards and Upwards :)
---
26 Sep 2016 22:27:00
we don't do lazy and age is outside of our philosophy considering current options. c'mon, realistic rumors please!
---
09 May 2017 00:41:00
I read a post from saint0001 I believe, that stated he couldn't wait for the season to end. Although disappointed, I can appreciate his comment - we have recently been blessed with an exciting end to seasons, where we try and finish for Europe. but this season is a blanket dead cert for a comfortable mid table end finish.

Whilst we bemoan certain tactics, we had an incredible amount of games at the start of the season, and a squad which (in terms of our recent success) weaker than normal. But Puel has played with the philosophy and I am sure no doubt down to injuries, has given Jack Stephens and JWP more games this season than ever before! Romeu has come on leaps and bounds, and even Boufal is starting to learn the premiership the hard way. Josh Sims threw off Koeman wondering where he came from.

Yes the season isn't what what we wanted. but really? 5 years ago everyone would have bitten off someones piece for this!

Ironically enough, the worst player on the pitch against, liverhampton (for me) was Tadic, as the vast amount of times in attack when we lost possesion, it was a poor decision where he gave the ball away. but the team recovered. Yes we should have had a Pen, but the one thing I did notice, that I haven't seen for a long time, is the "dirty" side - where frazer towered over Milner etc. we are far to guilty of playing the nice game. (Like last week against Hull when Tadic tried to stay on his feet and if he would have gone down, would have got a Pen) . admittedly he would probably missed that one aswell, lol.

I can't see anyone leaving unless a significant amount of money is thrown, but I can see the squad regrouping and trying to remain injury free. And who cares if the company is taken over. that's football. a business. let's hope we don't have to change out colours to accommodate their company lol.

0-0 away at Liverhampton will NEVER be a bad result, regardless to men behind the ball. I am not a Puel lover, but he took us to a final without conceding and the football gods / referees were not on our side. with injuries and games and squad size. he really hasn't done a bad job.

Onwards and upwarsd SFC.
---
19 Dec 2016 02:20:39
Well chuffed with J Rod. over the last couple of games, expected first one (if last week) would of put it into ZZ stand. Brill work by Davis to make that one happen. Second one. well, he didn't look up. (awesome goal) give him a few more games and you never know :)
Chuffed to bits Harrison started - another 45 mins for the lad. high hopes.
Tadic didn't need to start and still coming back, realistically I don't think cause for concern (yet) . I would probably expect him to start against Spurs.
Jose. well c'mon. he's off! Let's accept this one and move on. In a way gutted, but hey ho. give him half a season with big bucks to end his career with. not too much to ask for what he has done. Gave Yosh a chance!

Smile and Wave boyz, Smile and wave :)
---
18 Dec 2016 15:36:05
Think they did!
---
26 Sep 2016 22:32:03
Hopefully not to soon: we are currently winning, playing good football and don't need Liverhampton taking them in January!
---
26 Sep 2016 22:24:10
Saint Martin; cruel comment to someone who admits to having their tail between their legs. CP tactics is totally different and without the player fear of Koeman and he has to contend with Europe, with an incredibly young inexperienced Europe squad. At least the playing of youth philosophy is being adhered to! I agree long may it continue and I would expect this season to be the learning curve of top 10 teams.
---